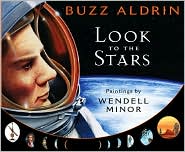 Look to the Stars by Buzz Aldrin is a book that is filled with science facts, history, imagination, dreams, and whimsy.  As an Apollo 11 astronaut, Buzz Aldrin, shares his unique and beautiful perspective about the inventive nature of man and his own experiences on his Mission to the Moon.  Wendell Minor's artwork is colorful and stunning, and his representations of the scientific equipment is detailed and precise. 
Look to the Stars traces our history from Copernicus to our modern day Mars Rovers.  Each page concisely states the science facts and history, has an illustration, and a quote by a scientist or inventor that supports Aldrin's discussion.  Major themes of the book include: flight, rocketry, satellites/communication, and manned/unmanned space travel. 
This book is my introduction to my space unit.  I use the quotes throughout the text as discussion openers, highlighting the vision, risk taking and sense of adventure that were necessary to launch our space program.  This book is a great hook for the theme that scientists are wonderful heroes too!  Our class then follows up with a research project featuring a scientist or inventor.   The combination of first hand experience Aldrin shares paired with science history and facts, makes this a must read and share book for your classroom.  Enjoy!